International Symposium-Digital Libraries: Sustainable Development in Education (DLSDE)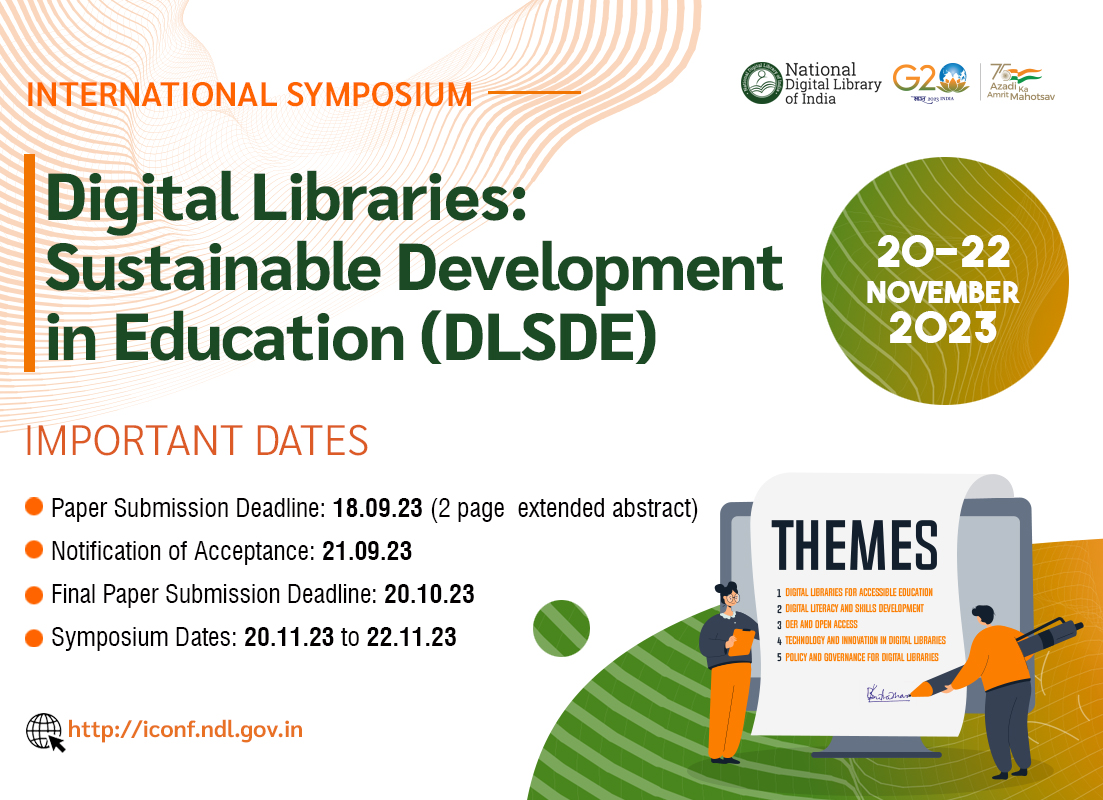 November 20, 2023 - November 22, 2023
09:30 AM
IIT Kharagpur
+91 3222 282432
As the president and organizer of the G20 summit, India recognizes the importance of leveraging digital technologies and knowledge resources to address global challenges and foster inclusive education. In this context, the National Digital Library of India (NDLI) is proud to announce its international symposium titled "Digital Libraries: Sustainable Development in Education". This symposium aims to bring together experts, educators, researchers, policymakers, and practitioners from around the world to discuss the role of digital libraries in promoting equitable and sustainable development in education. With this NDLI aims to contribute to the global dialogue on leveraging digital resources for achieving the United Nations Sustainable Development Goals (SDGs), particularly SDG 4 (Quality Education).
Themes
Digital Libraries for Accessible Education
Digital Literacy and Skills Development
Open Educational Resources (OER) and Open Access
Technology and Innovation in Digital Libraries
Policy and Governance for Digital Libraries
Objectives
Promote the importance of digital libraries: The workshop aims to highlight the crucial role that digital libraries play in advancing equity and sustainable development in education. It seeks to raise awareness among participants about the significance of digital libraries as effective tools for promoting inclusive and quality education.
Share best practices and experiences: The workshop intends to provide a platform for experts, policymakers, and practitioners from around the world to share their best practices and experiences in utilizing digital libraries to address educational inequalities and foster sustainable development. It aims to facilitate the exchange of knowledge and ideas to enhance the effectiveness of digital library initiatives.
Foster international collaboration: By bringing together stakeholders from various countries, the workshop aims to promote international collaboration in leveraging digital libraries for educational equity and sustainable development. It seeks to encourage partnerships and cooperation among participating nations to develop innovative strategies and solutions in this domain.
Showcase India's G20 Vision: The workshop is designed to showcase India's G20 Vision, emphasizing its commitment to promoting sustainable and equitable education through the use of digital libraries. It provides a platform to highlight India's efforts, initiatives, and achievements in this area, inspiring other countries to adopt similar approaches.
Identify challenges and propose solutions: The workshop aims to identify challenges and barriers in implementing digital library initiatives to advance equity and sustainable educational development. It seeks to facilitate discussions and brainstorming sessions to develop practical solutions, strategies, and policies that can be adopted at the global level.
Develop a roadmap for action: Based on the discussions and outcomes of the workshop, the objective is to develop a roadmap for action that outlines key recommendations and steps to harness the potential of digital libraries in achieving equity and sustainable development in education. This roadmap can serve as a guide for policymakers, educators, and organizations worldwide to implement effective digital library programs.